Mystery Hamper and Prosecco – Spicers of Hythe
£29 instead of £60 for a mystery hamper from Spicers of Hythe including 15 luxury chocolate and sweet treat items and a bottle of bubbly – treat that special someone and save 55%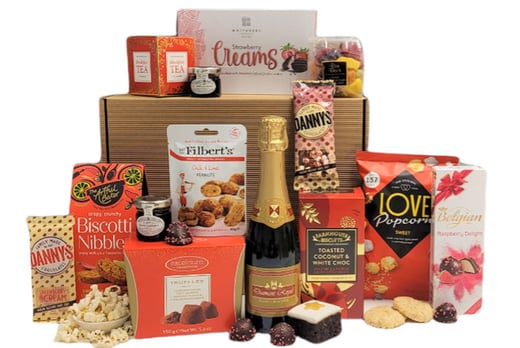 Mystery Hamper and Prosecco – Spicers of Hythe
£29 instead of £60 for a mystery hamper from Spicers of Hythe including 15 luxury chocolate and sweet treat items and a bottle of bubbly – treat that special someone and save 55%
Product Features
Gift Hamper: Treat that special someone to a mystery hamper from Spicers of Hythe.
Items: The hamper will be packed full of 15 randomly selected delicious treats.
Treats: From coconut and white chocolate biscuits, to iced cake, chilli and lime nuts, to hot chocolate spoons there is something for all sweet and savoury tooth's (see full list below).
Perfect for: The perfect gift for that special someone to show how much they mean to you!
Spicers of Hythe: Opened in 1926 Percy Spicer wanted his customers to have the very best and believed in giving them exceptional quality and value as well as a superb choice of products which he purchased from far and wide.
Delivery: Delivered straight to your door in a beautiful hamper.
Full Details
Why not spoil a loved one to a chocolot of sweet treats and share the love with today's deal!
We're offering you a mystery hamper for just £29 from Spicers of Hythe.
15 items chosen from:
Diamont Royale Blanc De Blancs 37.5cl
Farmhouse Toasted Coconut & White Choc Chunk Biscuits 150g
Belgian Raspberry Delight 50g
Whitakers Strawberry Creams 150g
Artful Baker Chilli & Lime Biscotti Nibbles 100g
Danny's Lumpy Road Chocolate 40g
Love Popcorn Sweet Popcorn 27g
Tiptree Blackcurrant Preserve 42g
Tiptree Morello Cherry Preserve 28g
Bon Bons Jolly Jelly Sharks 160g
Excelcium Hazelnut Truffles 150g
Beech's Dark Chocolate Bar 60g
Filbert's Chilli & Lime Peanuts 40g
Original Cake Co Iced Cake Bite
New English Teas Premium English Breakfast Tea 10's
Stas Hot Choc Spoon Divine Dark Caramel Chocolate Bar 35g
Eternal Grocer Choc Covered Brazil Nuts 150g
Bon Bons Indulge-Hazelnut Bar 50g
Cox & Co 100% Choc Bar 35g
Danny's Mighty Milk Choc Bar 40g
Stas Milk Chocolate Star with Sprinkles 40g
Moores of Dorset Choc Chip Biscuits 150g
Reids Chocolate Chunk Shortbread 150g
Nibnibs Chocodeero Mini Cookies 100g
Abbey Biscuits Box Choc Chip Brownies 150g
Popcorn Shed Pop & Choc 24g
Yorkshire Popcorn Salted Popcorn 40g
Joe & Seph's Pina Colada Popcorn 30g
Joe & Seph's Dark Chocolate Popcorn Vegan 32g
Taste Savoury Red Onion & Cheddar Biscuits 50g
Millers Harvest Three Fruit Biscuits 125g
Nibnibs Sun Dried Tomato Breadsticks 100g
Van Strien Multiseed Straws 90g
Peters Yard Cyder Vinegar & Sea Salt Sourdough Bites 90g
Bag West Country Legends Cocktail Water Biscuits 85g
Mrs Darlington Strawberry Jam 130g
Tiptree Strawberry Preserve 42g
Mrs Bridges Orange Marmalade with Ginger 42g
Cambrook Baked Sweet Chilli Peanuts & Cashews 45g
New York Deli VIP Nuts Hot Toffee Barista Bites 27g
Eternal Grocer Chocolate Coated Nuts & Rasins 175g
Dormen Wasabi Peanuts 40g
Olly's BBQ Nuts 35g
Serious Pig The Delicious Almond 35g
Dormen Salted Cashews 40g
Cambrook Giant Chilli Corn Kernels 32g
Dormen Blend No5 For Gin & Tonic 50g
Pouch Dormen Salted Caramel & Chocolate Raisin Mix 100g
Original Cake Co. Cherry & Almond Half Slab 200g
Original Cake Co. Mini Fruit Cake Baked In Just For You Card Cake English Tea Shop English Breakfast 8 sachets - 16g
Ahmad Afternoon Tea 10's English Tea Shop English Breakfast 20 sachets- 40g
New English Tea English Breakfast 6's 12g
New English Tea Afternoon Tea (Red Bus) 6's 12g
Check out our other related deals:
This deal is brought to you by Spicers of Hythe Limited VAT number: GB702520093